Cost-effectiveness is one of the things investors consider when they decide to purchase digital assets. Our previous lists of the best cheap cryptos to buy have covered such tokens.
Cheap altcoins come in handy when the prices of some cryptos are going up and are too expensive to purchase. 
The cryptocurrency market started the week with significant losses, with Bitcoin's price dropping below $25,000 for the first time since mid-June. These losses were driven by concerns surrounding the bankrupt cryptocurrency exchange FTX, which was expected to start selling off its digital assets, including over $500 million worth of Bitcoin.
5 Best Cheap Crypto To Buy Now Under 1 Dollar in September 2023
While Bitcoin was consolidating, the broader cryptocurrency market displayed signs of weakness. Several market indexes, which monitor the performance of a diverse range of digital assets, saw a modest gain of 0.8% over the past week. 
In contrast, the Bitcoin Price Index outperformed, registering a 1.7% increase in its value during the same period. This increase indicates that Bitcoin was relatively stronger than other cryptocurrencies during that week.
1. Storj (STORJ)
Storj, pronounced as "storage," is an open-source cloud storage platform that operates on a decentralized network of nodes to host user data while ensuring robust security through advanced encryption.
The concept of Storj was initially introduced to the public in a white paper published in December 2014. This concept aimed to create a decentralized, peer-to-peer, and encrypted cloud storage platform.
Two years later, an updated white paper outlining a decentralized network connecting users needing cloud storage space with individuals willing to rent out their hard drive space was released. The platform itself was launched in late 2018.
Welcome to @IBCShow 2023! 🎥

Stop by booth 5.B62 and our panel today at 11:45am @ContentEverywhere Stage 2 to learn how we're revolutionizing cloud storage for media and production teams with our fast, secure, and green distributed model 👉https://t.co/3dT4KPES5l pic.twitter.com/AIbgfeLzZC

— Storj (@storj) September 15, 2023
Participants with available hard drive space and reliable internet connectivity can join the Storj network as nodes. These nodes play a crucial role in the network by providing storage capacity to users. In return for their contribution, space providers are rewarded with Storj tokens, the native cryptocurrency of the Storj platform. This rewards system incentivizes node operators to continue participating in the network and offering storage resources.
2. Worldcoin (WLD)
The Worldcoin project is driven by the mission to establish the world's largest identity and financial network, treating it as a public utility accessible to all individuals, with the ultimate goal of granting ownership to everyone.
Central to the Worldcoin system is World ID, a privacy-centric global identity network. This innovative technology enables users to verify their identity online in a privacy-preserving manner, employing techniques like "Proof of Personhood" while ensuring the security of their personal information through zero-knowledge proofs.
To interact with the Worldcoin protocol, individuals must download the World App, which serves as the initial wallet app supporting the creation of a World ID. Individuals visit a physical imaging device called the Orb to complete the World ID verification process. These Orbs are typically operated by a network of independent local businesses known as Orb Operators. Utilizing multispectral sensors, the Orb verifies the user's identity and uniqueness, with all images being promptly deleted on the device by default unless explicit consent for Data Custody is given.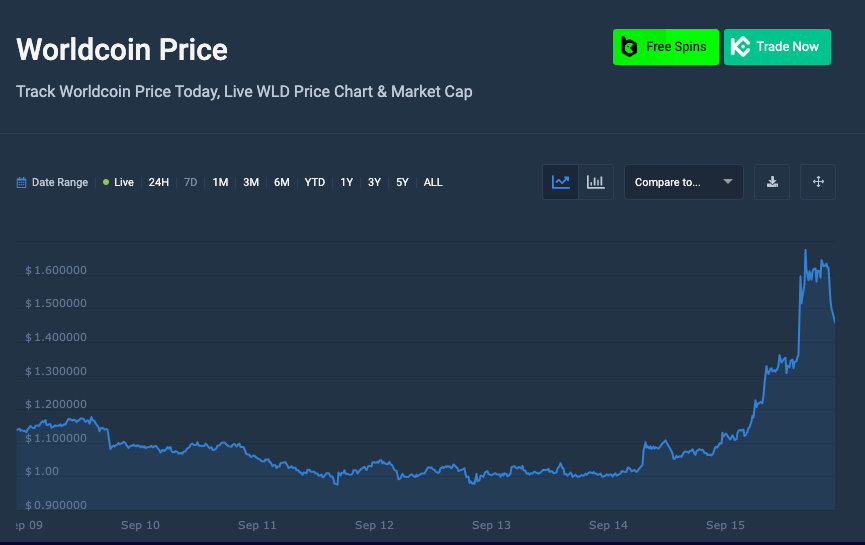 Individuals who possess Orb-verified World IDs can claim recurring grants of free WLD tokens (please note that WLD tokens are not available in the US; refer to the Worldcoin Tokenomics section of the project's whitepaper for further details). This approach could make WLD one of the world's most widely distributed digital currencies.
The WLD token is designed as a utility token with governance features, empowering users by giving them a voice in shaping the protocol's future. In addition to traditional "one-token-one-vote" governance mechanisms, World ID introduces the concept of "one-person-one-vote" mechanisms. These two mechanisms can be combined to create novel approaches to governance. After the project's launch, the Worldcoin Foundation intends to seek input from the community and collaborate on defining how World ID and the WLD token should interact within Worldcoin's governance model (consult the project's whitepaper for more information on governance and decentralization).
The Worldcoin project is now live. pic.twitter.com/xZXG4w56Ps

— Worldcoin (@worldcoin) July 24, 2023
While the community of users will determine the token's utility, some potential use cases besides governance include using the WLD token to pay for specific actions in World App or other wallet apps, conducting various payments, or signaling support for specific initiatives or causes.
WLD operates as an ERC-20 token on the Ethereum blockchain. Users will receive their user grants on the Optimism Mainnet, so most WLD transactions are expected to occur on the Optimism network.
3. Chainlink (LINK)
Chainlink, established in 2017, serves as a blockchain abstraction layer, offering a solution for creating universally connected smart contracts. Chainlink is a decentralized Oracle network, enabling seamless and secure interactions between blockchains and external data feeds, events, and payment systems. This functionality is vital for enabling complex smart contracts to access essential off-chain data, ultimately leading to the widespread adoption of digital agreements.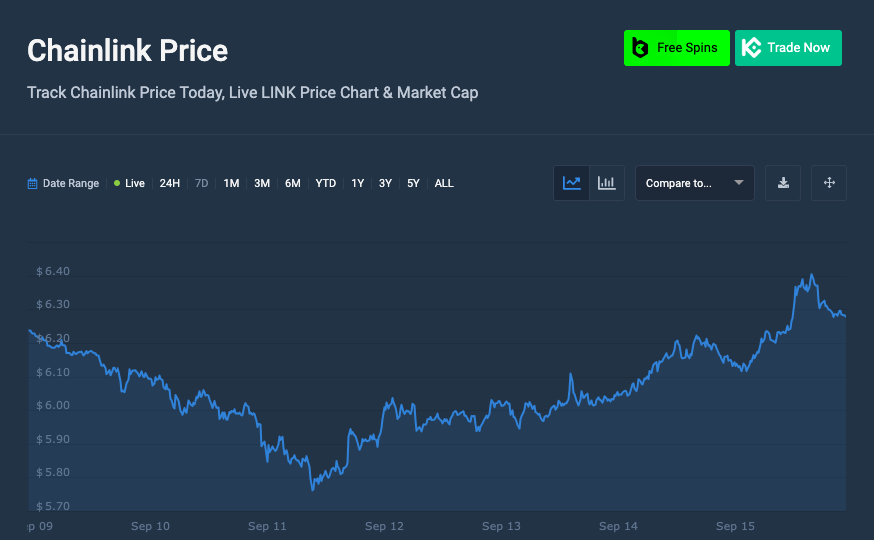 The Chainlink Network is sustained by a robust open-source community, encompassing data providers, node operators, smart contract developers, researchers, security auditors, and other contributors. The company emphasizes ensuring decentralized participation is accessible to all node operators and users eager to contribute to the network's growth and development. This collaborative ecosystem is fundamental to the success and evolution of Chainlink's technology and its broader impact on the blockchain space.
Chainlink #CCIP is a huge unlock for Web3 gaming. https://t.co/yefTaHNGPz

— Chainlink (@chainlink) September 12, 2023
4. Stellar (XLM)
Stellar (XLM) is a decentralized peer-to-peer network established in 2014 by The Stellar Development Foundation, also known as Stellar.org. It officially launched in 2015 with the primary mission of creating a global network that connects various financial systems and provides a standardized protocol for payment providers and financial institutions. Stellar is specifically designed to facilitate financial resources' swift, reliable, and cost-effective movement.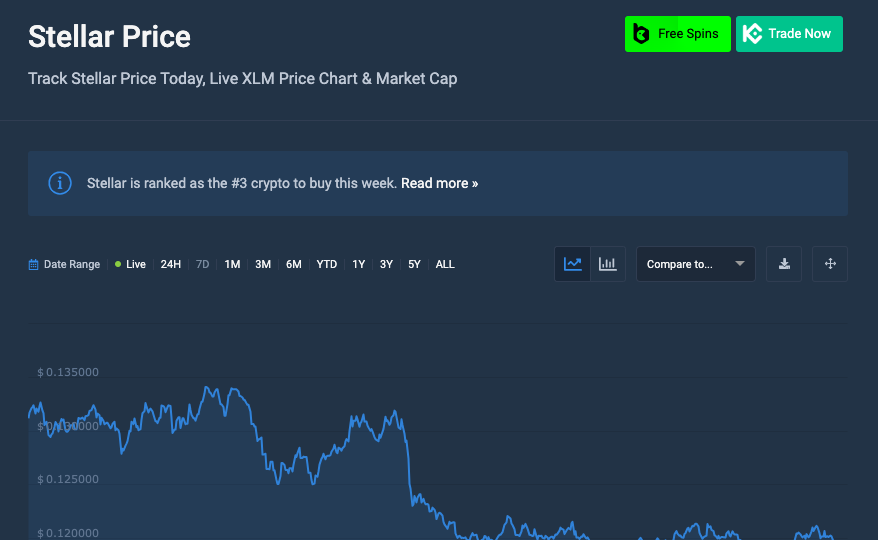 Stellar's payment protocol is founded on distributed ledger technology and is open-source, community-owned, and maintained by a global community. XLM is particularly focused on facilitating cross-border transactions, addressing issues related to high fees and slow processing times. Stellar aims to provide individuals access to the global financial system, enabling them to send money across borders rapidly and cost-effectively.
Security is a paramount concern for Stellar. To remain active on the network, XLM holders are required to possess at least one token. This requirement serves a crucial purpose by ensuring the efficient execution of network transactions with minimal time delays. Furthermore, Lumens offers protection against flood attacks by making microtransactions economically unviable for hackers, thus safeguarding the Stellar Network from significant threats.
Fact-check: Stashing cash, waiting for remittances, unnecessary overdraft fees, and lack of economic access should not be the norm.

You know what's broken; the Stellar network has the toolbox.

Build better with Stellar. pic.twitter.com/1ZjQ6mZZB7

— Stellar (@StellarOrg) September 12, 2023
Stellar's support for multi-currency transactions is a significant advantage, simplifying cross-currency operations. Anchors act as bridges between different currencies and the network and play a vital role in facilitating exchanges within the Stellar ecosystem, streamlining the entire process. This functionality, combined with Stellar's stable performance and low transaction costs, enhances the overall user experience and makes it a competitive player in the blockchain and cryptocurrency.
5. Wall Street Memes (WSM)
Wall Street Memes is carving out a unique path within cryptocurrency through its distinct approach. Unlike traditional cryptocurrencies, Wall Street Memes places its community members at the center of its vision, emphasizing their importance and active involvement. This commitment to community is outlined in detail in the project's whitepaper, highlighting its dedication to transparency and community-driven decision-making.
AMC raises $325 million through equity, staving off bankruptcy fears for now. Could the stock become attractive even to value-based, long-term investors? $AMC @TheStreet https://t.co/TeZXrjGFU6

— Wall Street Memes (@WStreetMemes) September 15, 2023
What sets Wall Street Memes apart is its departure from the conventional norms associated with cryptocurrencies. Rather than solely focusing on financial gains, the project injects fun and entertainment into an industry often perceived as serious and complex. This innovative approach resonates with diverse users, positioning Wall Street Memes as a dynamic force within the decentralized finance (DeFi) landscape.
It's important to note that Wall Street Memes is currently in its presale phase, scheduled to conclude on September 25th. Following the presale, the token will become available on major exchanges starting September 27th. More details about the token are expected to be announced soon.
Given its unique approach and potential to introduce groundbreaking innovations, Wall Street Memes is a project worth closely monitoring in the ever-evolving realm of cryptocurrencies and decentralized finance (DeFi).
Read More
Ends Soon – Wall Street Memes
Early Access Presale Live Now
Established Community of Stocks & Crypto Traders
Featured on Cointelegraph, CoinMarketCap, Yahoo Finance
Rated Best Crypto to Buy Now In Meme Coin Sector
Team Behind OpenSea NFT Collection – Wall St Bulls
Tier One Exchange Listings September 27
Tweets Replied to by Elon Musk