The open interest for Bitcoin CME futures is nearing its all-time high. The value is 21% at the moment, with three-month CME futures at a premium of 0.6%.
There are signs that the crypto market may be perking up as Bitcoin futures contracts on the Chicago Mercantile Exchange (CME) have entered the premium territory.
This is the first time that this has occurred since the collapse of FTX, which set off a chain of events that tanked the market.
Data from Arcane Research shows that institutional influx is growing, with the total open interest in BTC futures at 21% on the CME. This value is near the all-time high figure for the exchange. It notes that the figure was only higher on two previous occasions: October 2021 and late December 2021, when futures-based ETFs were launched.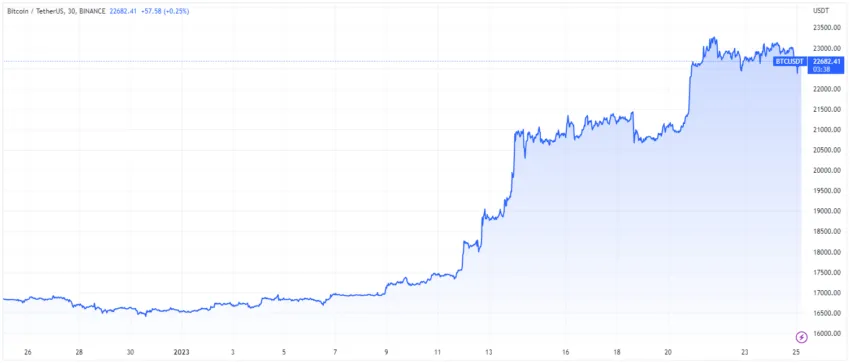 This is occurring as Bitcoin bounces back from its slump. The asset is up 36% this month alone, and investors are hopeful it could jumpstart a longer market recovery. Total Bitcoin open interest on futures and perpetual contracts is $9.7 billion, or about 419,000 BTC.
The three-month CME futures are operating at a premium of 0.6%. The analysts report that institutional investors continue to take a cautious view of bitcoin.
It appears that only CME is the beneficiary of the turnaround. Binance 3-month futures are comparably low at 6,600 BTC.
Bitcoin and CME Futures Recovering After Q4 2022 Slump
CME was hard hit by the crypto winter, just like every other crypto company. Its crypto trading volumes dropped sharply in Q4 2022, hitting a 2-year low of $13.2 billion. This figure last occurred in October 2020.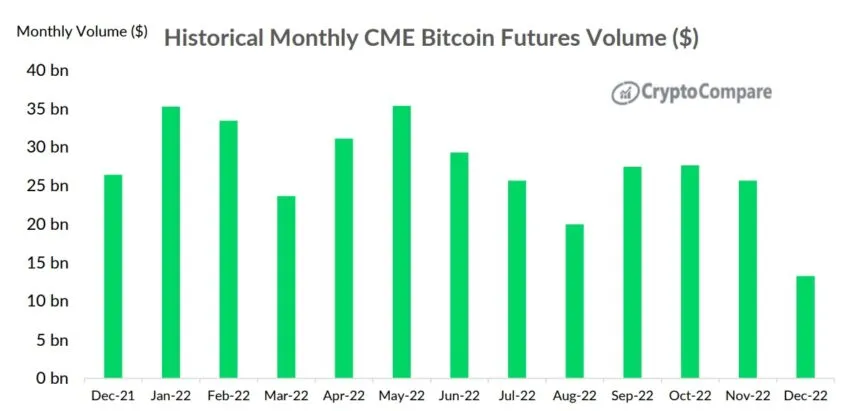 It was just one of the effects expected from the crypto winter, which saw much lower volumes in the crypto market. Investors were cautious about pouring their capital into the market, though it appears that this could be changing.
ETH Futures Also Turning Around
Meanwhile, Ethereum futures and options are also showing positive movements. Ether futures premium reached 4%, pushing the asset into positive premium territory as well.
Ethereum is currently gearing up for the Shanghai upgrade, which would let stakers unstake their ETH. In other news, Index Coop launched a new index token with three liquid staking derivatives. This includes stETH, stETH2, and rETH.
Disclaimer
BeInCrypto has reached out to company or individual involved in the story to get an official statement about the recent developments, but it has yet to hear back.