The crypto sector continues to witness support from global institutions despite the numerous black-swan events. To grow further, the asset class just might need time to mature. 
The current crypto market is still experiencing the shockwaves induced by last year's black-swan events. Black-swan events are rare, unpredictable, and severe events that can significantly impact financial markets, including cryptocurrency. 
Examples of past black-swan events that have affected the cryptocurrency market include the 2017 China Bitcoin ban, the Mt. Gox hack in 2014, and the COVID-19 pandemic in 2020. Last year, multiple crypto institutions collapsed. This year, the fallout from Silvergate Bank caused doubts in the crypto market to skyrocket. 
While it is impossible to predict when and how black-swan events will occur, institutions and individuals can prepare for them by diversifying their investments. They do this using risk management strategies and staying informed about the latest developments in the market.
Severe Market Conditions 
The price of Bitcoin, the largest cryptocurrency by market capitalization, experienced sharp declines. It was mainly triggered by global markets crashing in response to the abovementioned events. However, it quickly rebounded towards the end of the year. This was fueled in part by the influx of institutional investors and the growing acceptance of cryptocurrencies as a legitimate asset class.
The Decentralized finance (DeFi) space also experienced tremendous growth. The total value locked in these platforms skyrocketed from less than $1 billion in June 2020 to over $47 billion at the time of press. However, this growth also came with significant risks, as several high-profile hacks and exploits highlighted the vulnerabilities of these platforms. Institutional investment in cryptocurrencies and the DeFi space saw decent funds circulate the network.
S&P Global Market Intelligence published a report to showcase the investments here: 
The crypto market remains highly volatile and subject to black-swan events that can cause significant price fluctuations. While one should still expect some level of volatility in the near term, crypto institutions are optimistic about the market's recovery. 
Taking the Optimistic Approach
Speaking on this matter is Salama Belghali, Global Head of Business Development and Partnerships at BitMEX. In an exclusive interview with BeInCrypto, Belghali had interesting points to cover. 
For instance, when asked about the ongoing trend of the struggling market, she stated: 
"One of the positive signs we have witnessed is that interest from global institutions has not gone down amid the market shakeup. The same goes for the growth potential Asia markets are showing as they take a more crypto-friendly stance. Simply by observing trading activities on the BitMEX platform, we can see that confidence is growing. With many blockchain projects emerging once more, plus the upcoming Ethereum Shanghai upgrade, we anticipate that the bull market is just around the corner."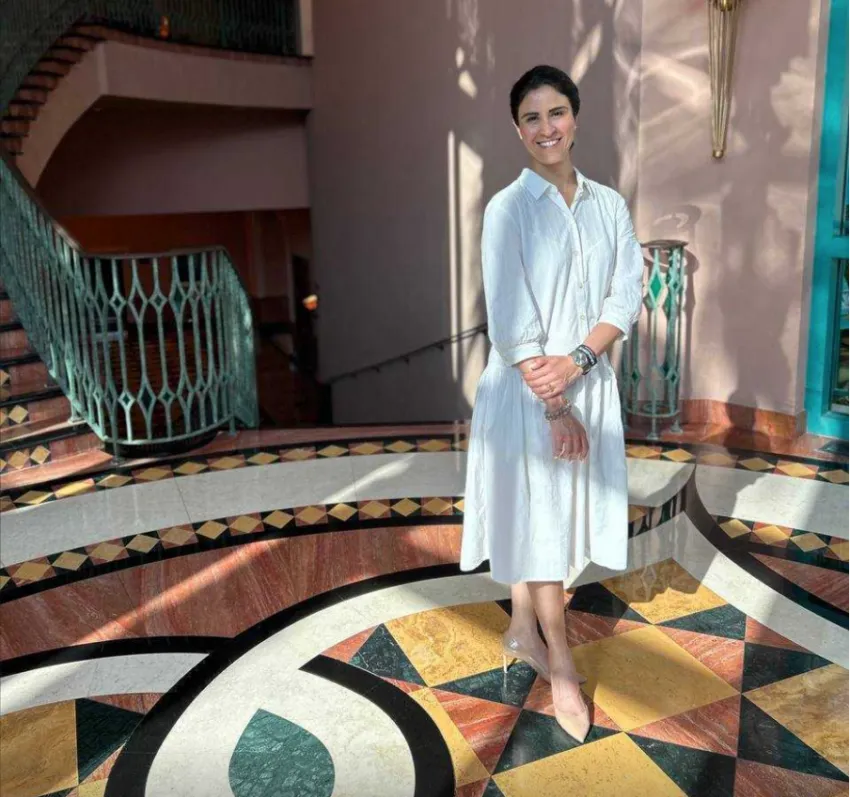 Despite the recent market volatility in the crypto space, global institutions have had sustained interest in cryptocurrencies. This can be seen in the increasing number of institutions, including banks, hedge funds, and asset managers, that have started to invest in or offer cryptocurrency-related services to their clients.
For example, major investment banks like Goldman Sachs, JPMorgan, and Morgan Stanley have started offering their clients cryptocurrency exposure through various investment products, such as Bitcoin futures contracts and exchange-traded funds (ETFs).
In addition, prominent asset managers, including BlackRock and Fidelity, have also launched cryptocurrency investment products or are actively exploring the space.
Marching Forward Despite the Storm
Furthermore, several countries' central banks have also been exploring the possibility of launching their own digital currencies. This indicates a growing interest and acceptance of cryptocurrencies at the institutional level. 
In addition, firms like BitMEX continue to take steps for further development amidst the market meltdown. For instance, the crypto exchange, which says it has no FTX or Alameda exposure, even launched a native crypto token (BMEX) for traders. Regardless of market volatility amid the demise of the FTX exchange operated by Sam Bankman-Fried. 
Needless to say, the token witnessed a roller-coaster start. In the last 12 months, BMEX lost about 78% of its value. But it started going up in 2023 and increased by 16% in the first 45 days of the year. At present, the 418th-ranked token trades around the $0.53 mark.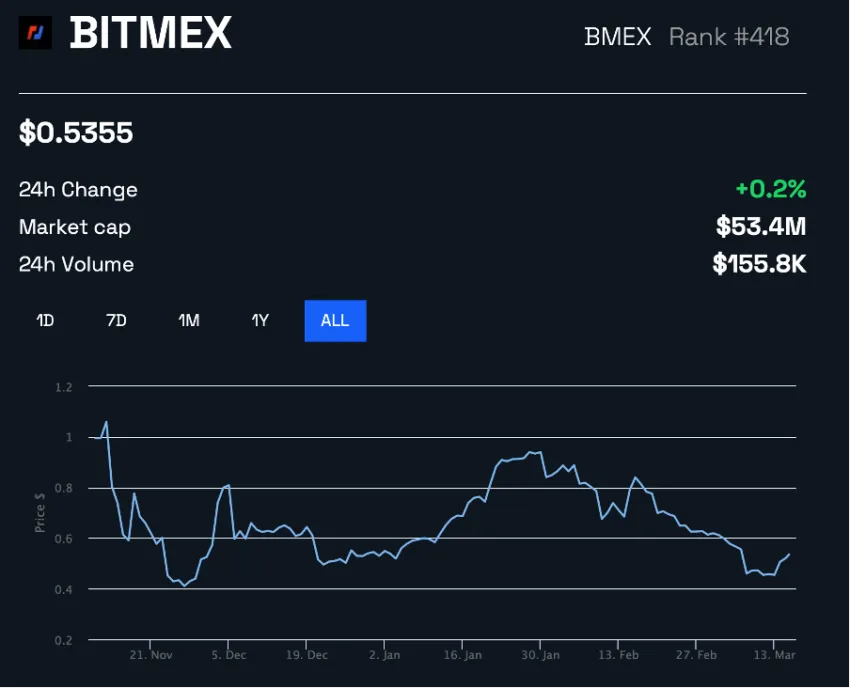 Despite the severe price corrections, the team envisioned a bright future for the concerned token. This is evident in the strategies laid out by the team despite the weak start to 2023.

Bullish About Crypto in the Long Run
The executive also is bullish regarding the underlying blockchain technology, which has immense potential to aid the crypto sector. In fact, she asserted, the attributes of blockchain technology could enhance efficiency in some of the traditional industries, particularly regarding accessibility and transparency. 
Further speaking to BeInCrypto, Belghali added: 
"For example, we have seen a surge in adoption in sectors such as shipping, healthcare, retail, and even education. Its potential is limitless as technology leaders continue to develop and create innovative products that will help revolutionize the ways in which we think, work, and trade. We anticipate there will be more use cases of blockchain in the future."
Like retail, institutional adoption will play a significant role in the coming years. Eric Peters, CEO of One River Digital Asset Management, believes the next crypto bull run will be compelling as it will be driven by institutional adoption. Despite prevailing downsides, the exec believes a bull run might have begun already.
Nonetheless, the crypto sector will witness such falls and eventually rise. As the famous quote from Samuel Beckett goes: "Ever tried. Ever failed. No matter. Try again. Fail again. Fail better."
Give Crypto Some Time 
While cryptocurrencies like Bitcoin and Ethereum have been around for over a decade, the industry is still relatively new and constantly evolving.
One of the reasons why crypto needs time to grow and mature is that it still needs to be widely adopted by mainstream institutions and individuals. While some big companies started to accept Bitcoin as payment, most businesses and individuals still need to start using cryptocurrencies for everyday transactions. This lack of adoption can lead to volatility and uncertainty in the market, as the value of cryptocurrencies can fluctuate based on a few big players.
Additionally, the regulatory environment for cryptocurrencies is still developing. Governments worldwide are trying to figure out how to regulate cryptocurrencies while allowing for innovation and growth in the industry. This regulatory uncertainty can create uncertainty for investors and businesses, slowing adoption and change.
Another factor is that blockchain technology behind cryptocurrencies is still being developed and refined. While blockchain has the potential to revolutionize industries like finance and supply chain management, it is still a relatively new technology with limitations and challenges that need to be addressed.
While cryptocurrencies have shown promise as an innovative and disruptive technology, they still need time to mature and overcome the challenges and obstacles hindering their widespread adoption and integration into mainstream society.
Disclaimer
All the information contained on our website is published in good faith and for general information purposes only. Any action the reader takes upon the information found on our website is strictly at their own risk.