These substantial transfers have caused the queue for setting up new validators on the Ethereum network to skyrocket to an astonishing 44-day wait.
Analysts, including Tom Wan from 21Shares, a well-known crypto investment product manager, estimate that Celsius Network alone may be responsible for prolonging the waiting time by nearly a week. This unexpected delay raises concerns about the network's efficiency and scalability, as it struggles to accommodate the surge in demand.
The recent ETH deposits by Celsius Network are part of its ongoing efforts to restructure its staked ETH holdings. This process began when Ethereum's Shanghai upgrade allowed for withdrawals from staking contracts back in April.
During that period, Celsius had accumulated around 460,000 ETH, which is currently valued at an impressive $870 million, through staking with Lido Finance. Furthermore, the platform had allocated approximately 160,000 tokens to its own staking pool, amounting to roughly $300 million based on present prices.
Celsius in Safe Hands?
The aforementioned transactions occur at a pivotal moment for Celsius Network, as the company seeks to rebound from a challenging period. In July, the firm filed for bankruptcy protection after experiencing liquidity issues resulting from plummeting cryptocurrency prices and a significant wave of user withdrawals.
However, there seems to be light at the end of the tunnel as the U.S. bankruptcy court recently auctioned off Celsius Network to Fahrenheit, an investment group backed by Arrington Capital. The successful bidder will now assume control of Celsius Network's assets, including its institutional loan portfolio, staked cryptocurrencies, and crypto mining units.
Celsius Network's Strategic ETH Staking and Ongoing Restructuring
In a strategic move, Celsius Network recently staked nearly $75 million worth of ETH through Figment, a non-custodial institutional staking service. This decision follows Celsius' request to redeem its 460,000 staked ETH from Lido Finance, of which it has already successfully reclaimed 428,000 tokens valued at $813 million.
The lender split these assets into two separate crypto addresses, with one address previously utilized for staking with Figment and the other for depositing into its own staking pool. This didn't just stop there. On Thursday, Celsius initiated a substantial transfer, moving a total of 291,000 ETH (equivalent to $553 million) into staking contracts.
As per an analysis by Tom Wan, 192,000 tokens were placed into Celsius' staking pool, while the remaining 99,000 tokens were staked through Figment.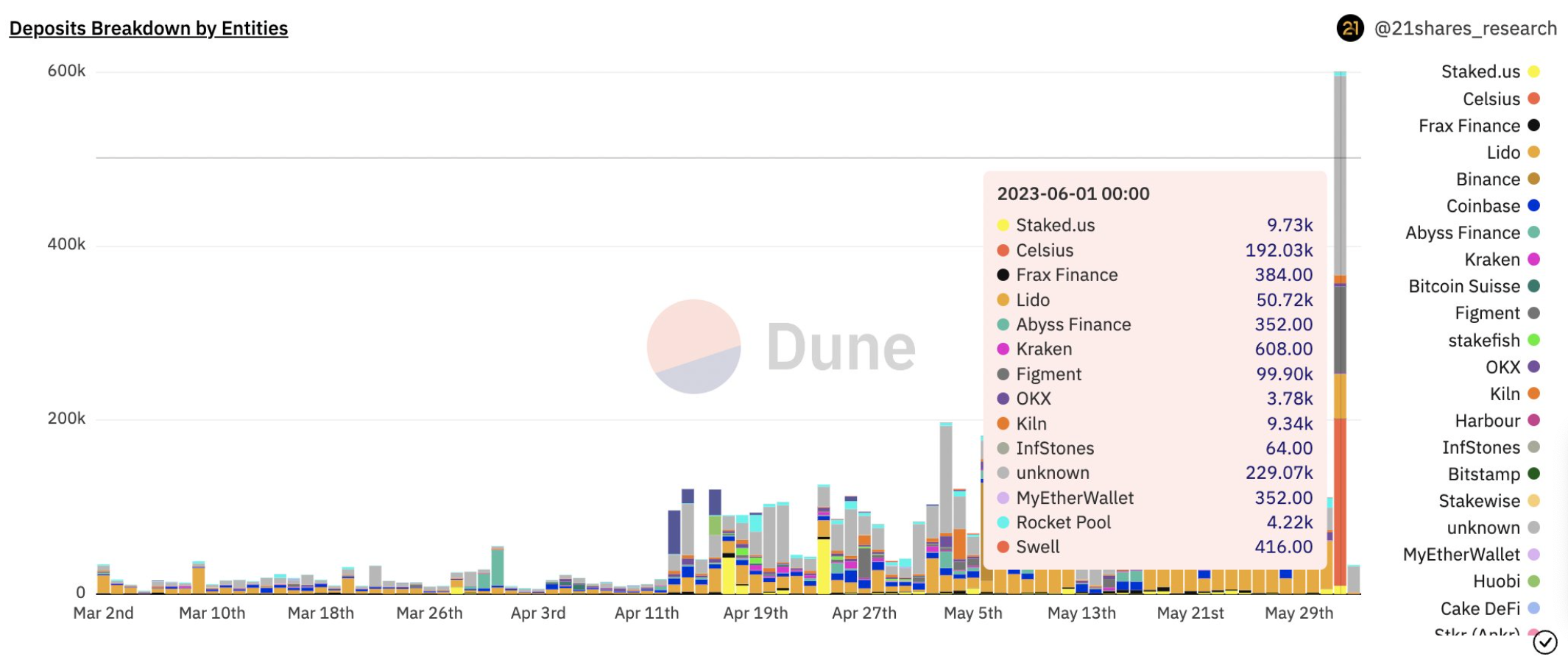 On Friday, Celsius continued the transfer process, positioning itself to stake its entire stash of 428,000 ETH. Presently, Celsius has staked approximately $199 million of ETH through Figment and has deposited approximately $12 million into its own staking pool.
Although substantial transfers have occurred, Celsius continues to possess approximately $109 million worth of ETH in its wallets, as indicated by data from Arkham. The underlying motivation behind these strategic manoeuvres remains uncertain. However, there is speculation that Celsius seeks to generate returns on its assets amidst the ongoing bankruptcy proceedings.
It is worth noting that Celsius already has over 158,000 ETH staked through its own pool on Ethereum. The decision to transfer a substantial amount of ETH to Figment raises questions about the rationale behind it.
Currently, the average annual yield on staking through Figment stands at 5.6%, while the Ethereum network itself offers close to 9% for individual stakers. Therefore, the reasons behind choosing Figment over Celsius' own pool are yet to be clarified.
The collapse of Celsius Network in the summer of 2022 was largely attributed to its inability to withdraw the ETH that had been staked and locked through providers like Lido Finance. As depositors rushed to withdraw their funds from Celsius Network amidst the market crash, the company faced significant challenges.
With a significant ETH stash still in its wallets, Celsius continues to navigate the complexities of the crypto landscape, learning from past challenges and exploring new opportunities.
Strain on Ethereum Network Intensifies as Celsius Network Expands Staking Deposits, Prolonging Wait Times for New Validators
Amidst the freeze on user deposits, the beleaguered lender has turned to staking as a means to earn rewards on its digital asset holdings. However, this decision adds significant strain to the already congested queue for new validators on the Ethereum network.
Validators play a crucial role in a proof-of-stake blockchain by staking tokens to secure the network and validate transactions in exchange for rewards.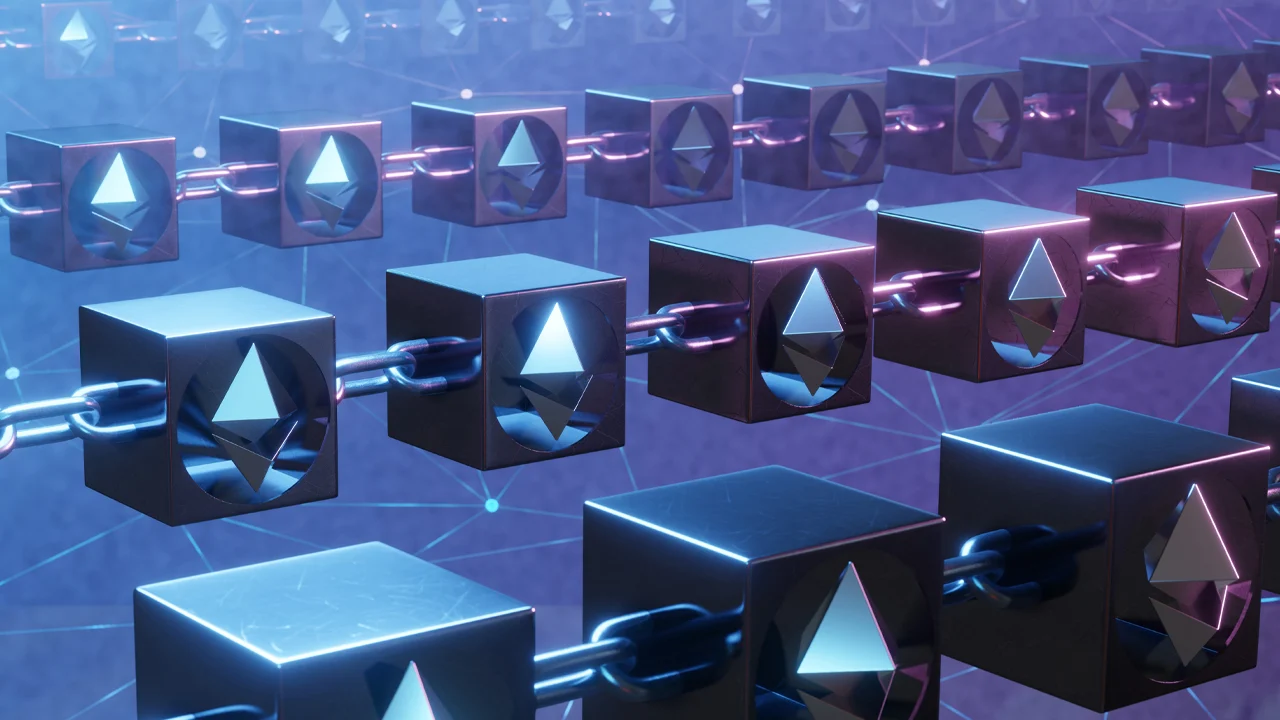 Since the Shanghai upgrade on April 12, the demand for staking has skyrocketed. Deposits have surpassed withdrawals by an impressive $5.5 billion, resulting in a month-long waiting period for newcomers to establish their validators, as highlighted by data from blockchain intelligence firm Nansen.
As Celsius Network continues to make its staking deposits, the ever-expanding queue for new validators on the Ethereum network faces even greater strain. The estimated time for the queue to clear has now reached an astounding duration of 44 days and one hour.
Furthermore, if Celsius decides to stake all 428,000 of its tokens, this move is anticipated to contribute an extra six days and 15 hours to the waiting period, ultimately culminating in a total duration of 45 days.
Related Articles
Ends Soon – Wall Street Memes
Early Access Presale Live Now
Established Community of Stocks & Crypto Traders
Featured on Cointelegraph, CoinMarketCap, Yahoo Finance
Rated Best Crypto to Buy Now In Meme Coin Sector
Team Behind OpenSea NFT Collection – Wall St Bulls
Tier One Exchange Listings September 27
Tweets Replied to by Elon Musk