Share:

XRP funds recorded net institutional inflow of $500,000 in the past week. 
Ripple whales distributed their XRP token holdings while retail investors accumulated in the last three weeks. 
XRP price is likely to rally to the $0.68 target in its ongoing uptrend. 
XRP price sustained above the $0.60 mark, early on Tuesday. The altcoin is in an uptrend, amidst rising capital inflow from institutional investors to XRP funds. Over the past three weeks, large wallet investors have distributed their XRP token holdings, and retail traders have scooped up the altcoin, supporting a bullish thesis.
Also read: Ripple hits new milestone in payments, likely catalyst for XRP price
Daily Digest Market Movers: XRP funds receive institutional capital, retail traders accumulate Ripple
XRP funds have received an inflow of $0.5 million from institutional investors in the past week, and the year-to-date total is $13 million, according to data from CoinShares' latest report.
Weekly crypto fund inflows by asset, as seen in CoinShares report
Institutional capital inflow is considered bullish for the asset as rival altcoins like Litecoin and Tron, recorded outflows in the past week. 
While institutions poured capital in XRP funds, large wallet investors, whale segments holding between 100,000 and 10 million tokens have distributed their holdings of the altcoin. 
Based on data from crypto intelligence tracker, Santiment, whales in two segments, 100,000 to 1,000,000 and 1,000,000 to 10 million shed their XRP holdings between November 4 and 21, while retail trader cohorts holding between 10 and 100,000 XRP tokens have accumulated the altcoin.

XRP token accumulation by retail, distribution by whales
As seen in the chart above, retail XRP token accumulation is typically followed by a sustained rally in the asset's price, similar outcome can be expected following the ongoing event. 
On-chain metric Market Value to Realized Value (MVRV) indicates the average potential profit/loss that investors who acquired XRP in the last 30 days will realize if they all sell at current price. 
According to Santiment data, MVRV ratio (30 days) is currently -0.97, XRP holders who scooped up the token in the past 30 days would therefore realize a loss at the current price of $0.62. This implies, traders are less likely to sell the asset, leaving room for a continued rally in the altcoin. 

MVRV Ratio (30 days) and price 
Technical analysis: XRP price rally could extend, 10% gains on the horizon
XRP price is in an uptrend in November 2023. The altcoin is on track to extend its gains, with the recent developments in the altcoin. XRP price eyes the 50% retracement level of the decline from the July 13 top of $0.93 to Aug 17 low of $0.42.
XRP price is likely to rally to the $0.68 mark, over 10% gains from the current level. The altcoin could find support at the 50-day Exponential Moving Average (EMA) at $0.59, in the event of a decline.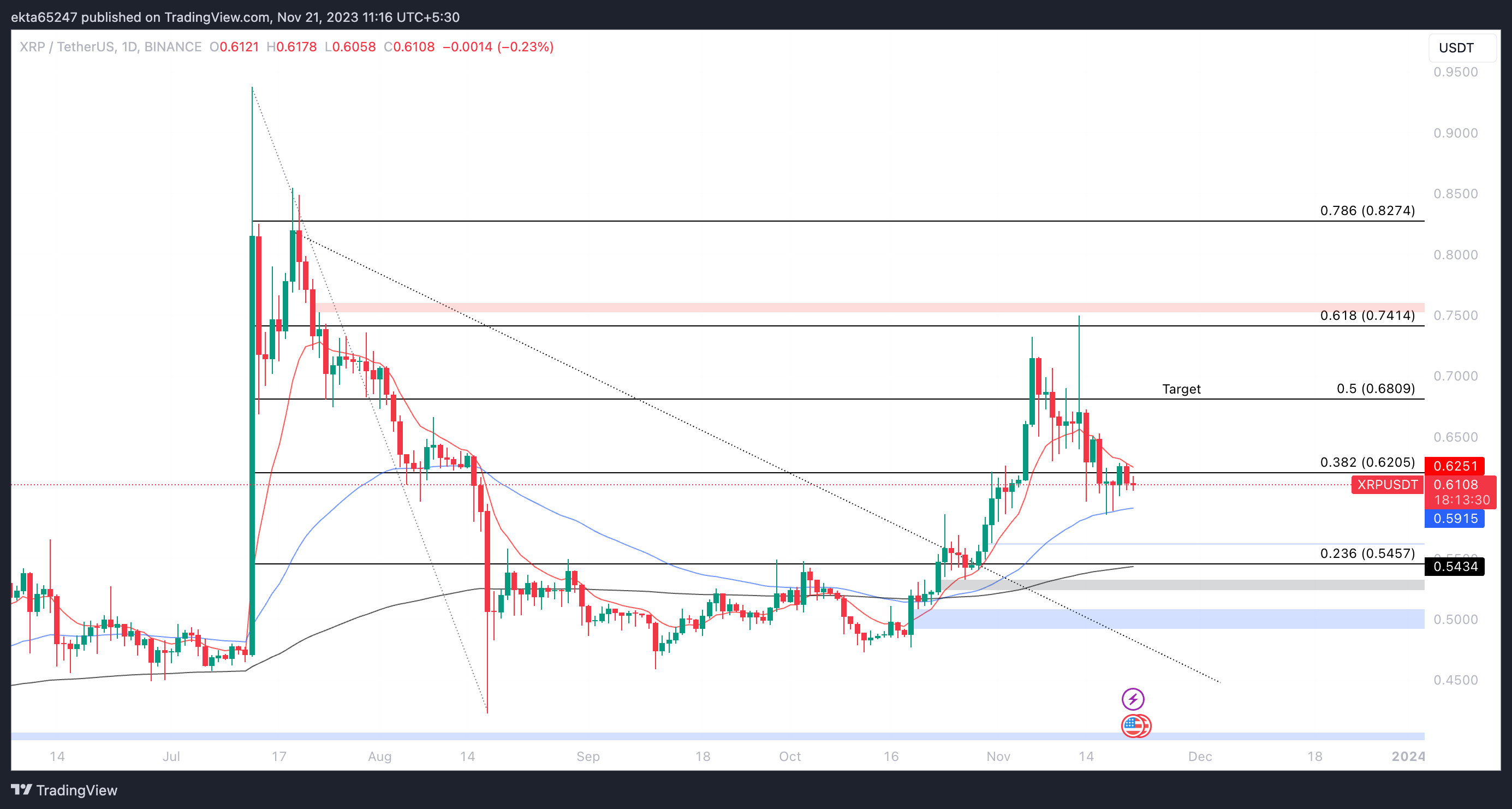 XRP/USDT 1-day chart
A close below the 50-day EMA could invalidate the bullish thesis for the asset and suggest further correction in XRP price.
SEC vs Ripple lawsuit FAQs
It depends on the transaction, according to a court ruling released on July 14:
For institutional investors or over-the-counter sales, XRP is a security.
For retail investors who bought the token via programmatic sales on exchanges, on-demand liquidity services and other platforms, XRP is not a security.
The United States Securities & Exchange Commission (SEC) accused Ripple and its executives of raising more than $1.3 billion through an unregistered asset offering of the XRP token.
While the judge ruled that programmatic sales aren't considered securities, sales of XRP tokens to institutional investors are indeed investment contracts. In this last case, Ripple did breach the US securities law and will need to keep litigating over the around $729 million it received under written contracts.
The ruling offers a partial win for both Ripple and the SEC, depending on what one looks at.
Ripple gets a big win over the fact that programmatic sales aren't considered securities, and this could bode well for the broader crypto sector as most of the assets eyed by the SEC's crackdown are handled by decentralized entities that sold their tokens mostly to retail investors via exchange platforms, experts say.
Still, the ruling doesn't help much to answer the key question of what makes a digital asset a security, so it isn't clear yet if this lawsuit will set precedent for other open cases that affect dozens of digital assets. Topics such as which is the right degree of decentralization to avoid the "security" label or where to draw the line between institutional and programmatic sales are likely to persist.
The SEC has stepped up its enforcement actions toward the blockchain and digital assets industry, filing charges against platforms such as Coinbase or Binance for allegedly violating the US Securities law. The SEC claims that the majority of crypto assets are securities and thus subject to strict regulation.
While defendants can use parts of Ripple's ruling in their favor, the SEC can also find reasons in it to keep its current strategy of regulation by enforcement.
The court decision is a partial summary judgment. The ruling can be appealed once a final judgment is issued or if the judge allows it before then. The case is in a pretrial phase, in which both Ripple and the SEC still have the chance to settle.
---